Or as we like to call them… #Jaylor
In the past, Taylor Swift's relationships have been highly publicised, but such is not the case when it comes to her relationship with British actor Joe Alwyn. The pair have been together for almost a year, creeping up on two, and the details of their romance have been kept under wraps. However, from the small bits that we've seen, these two are seriously adorable together and their love is thriving.
We love to see our girl happy, so we've put together a timeline of Joe and Taylor's relationship, including the sneaky clues from lyrics off of her album 'Reputation'. 
Met Gala May 2016
You might be thinking "hold on, isn't this the same Met Gala where Taylor and Tom Hiddleston had their famous dance off before they got together?". The short answer is, yes is it. However, a lyric from Tay's song "Dress" makes us think maybe there was another significant meeting that night. 
"Flashback when you met me
Your buzzcut and my hair bleached"
Hmm. This is interesting because at the 2016 Met Gala Taylor's hair was bleached, and guess who was sporting a buzzcut? We'll give you a hint, see below:
October 12, 2016:
Taylor Swift and a couple members of her squad attend a private Kings of Leon concert in New York. It's reported that Joe Alwyn is not only seen at the same concert, but was also seen attending the same after party. Coincidence? We're thinking not.
May 16, 2017:
Between October and April the couple goes to great lengths to keep their relationship under the radar. Seriously. Taylor visits Joe in England in disguise (like scarves, sunglasses, wigs) just to keep from being spotted. Finally, in May, the news of their relationship breaks and the world now knows the pair have been dating in secret. 
June 2017:
Joe visits Taylor in Nashville and they have a cute coffee date. It's reported that Joe has met some members of Taylor's infamous 'squad' and we're guessing they approved of her new beau.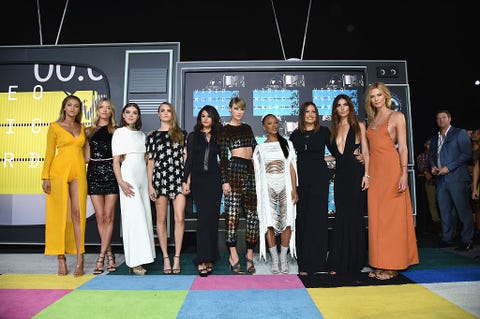 September 2017:
Taylor releases more music from 'Reputation' and fans are quick this time to dissect the lyrics for mentions of Joe. Her song "…Ready For It?" features some telling lyrics such as:
"Some boys are tryin' too hard, he don't try at all though
Younger than my exes, but he act like such a man, so"
Since Joe is younger than her two previous exes Calvin Harris and Tom Hiddleston, we're going to take a not-so-wild guess that these lyrics are about him. The pair are also frequently crossing the pond to visit each other, still keeping a relatively low profile.
October 20, 2017:
Taylor drops "Gorgeous", which features even more lyrics about her British boyfriend:
"You should take it as a compliment
That I got drunk and made fun of the way you talk"
Could that be a reference to his British accent? That means it's possible that this could be about Tom and not Joe, except that theory becomes discredited when Taylor sings this:
"And I got a boyfriend, he's older than us
He's in the club doing I don't know what"
Whether the aforementioned boyfriend is Tom or Calvin Harris, both are older than Joe, meaning these lyrics are 100% about him.
October 26, 2017:
Joe gets the stamp of approval from longtime Taylor Swift pal and collaborator Ed Sheeran. On Capital London's Breakfast Show, Ed said:
"He's really nice. Really, really friendly, really good dude".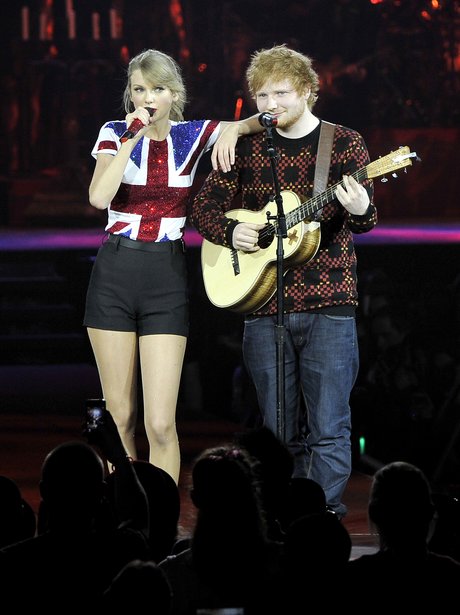 November 10, 2017
Taylor Swift released her highly anticipated album 'Reputation' and fans are quick to piece together which songs/lyrics are about Joe. 
From "Delicate":
"My reputation's never been worse, so
You must like me for me"
Around the time Tay and Joe met, her love life was in the spotlight. She'd recently broken up with Calvin Harris, and was beginning a romance with Tom Hiddleston, and unfortunately the media had plenty to say about it.
December 11, 2017
Joe and Taylor are seen at the Jingle Ball cuddling up with each other during Ed Sheeran's set and it's SO cute. An eagle-eyed fan was able to take a quick video of the pair.
MY CAMERA SUCKS BUT MY LIFE DOESNT pic.twitter.com/cZ1f886RBz

— kristina (@allltooswift) December 10, 2017
May 9, 2018
Taylor kicks off her Reputation tour in Arizona and Joe Alwyn is there supporting her from the crowd. Fans catch her pointing at him during her song "Gorgeous". Could these two be any cuter?
July 4, 2018
The two are spotted vacationing in Turks & Caicos over the July 4th weekend. 
So now that we've got you all caught up, what's your favourite thing about T-Swift and Joe Alwyn as a couple? Let us know over on Twitter @umusic
---